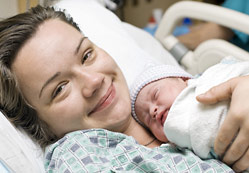 The FMLA provides certain employees with up to twelve weeks of unpaid, job‑protected leave per year. It also requires that your group health benefits remain active during leave. All requests for leaves of absence under the FMLA should be reported to Air Liquide's FMLA administrator, MetLife®. For a complete description of which absences are covered under the FMLA, contact MetLife® or the Air Liquide Health Benefits Center.
Learn more. Contact MetLife® by phone at 1-877-638-8262 or online at
www.metlife.com/mybenefits.
You may also contact Air Liquide Health Benefits Center at 1-800-964-8826 or online at
www.airliquidehealthbenefits.com.
Whom do I contact if I have questions or need to report an absence? Contact MetLife® or the Air Liquide Health Benefits Center.
Maternity and Pregnancy Services
Are you expecting a new baby? Benefits for pregnancy include all maternity-related medical services for prenatal care, postnatal care, delivery and any related complications. Click here for more information about maternity programs and services available to you and  your newborn that are covered under your medical plan.
If your baby is admitted to the NICU, NeoCare Solutions℠ is here for you. Your employer's health benefits package now includes free access to NeoCare Solutions℠, a specialized program designed to help parents whose babies are admitted to the NICU.
How NeoCare can help:
Personal Attention – Each family is assigned a NeoCoach who is available for guidance while in the NICU, through the transition home, and up to the baby's first birthday. Parents can feel secure knowing their NeoCoach is either a nurse or pediatric specialist with years of NICU experience.
Continuous Support – Whether in hospital or at home, NeoCare can help answer parents' questions and concerns by phone, video or chat-based messaging. NeoCare makes sure parents have support every step of the way.
Helpful Tools – The Neo app is the predominant channel for interacting with your coach through video and text messaging. It also provides instant access to educational resources personally selected by your NeoCoach as well as tracking and sharing features.
Learn more about NeoCare by speaking with your company's benefits manager or by visiting www.neocaresolutions.com.