Have You Recognized Your Peers Lately?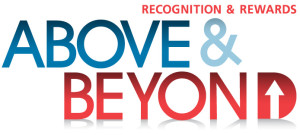 The Above and Beyond recognition and rewards program encourages peer-to-peer recognition, allowing employees to acknowledge their colleagues for demonstrating behaviors that support Air Liquide's core values.
Learn more: Visit Above and Beyond to help enhance our recognition culture at Air Liquide. We value our employees and their commitment to make Air Liquide an exceptional organization. The Above and Beyond website is also accessible from the Human Resources page on HR PortAL (internal access only).